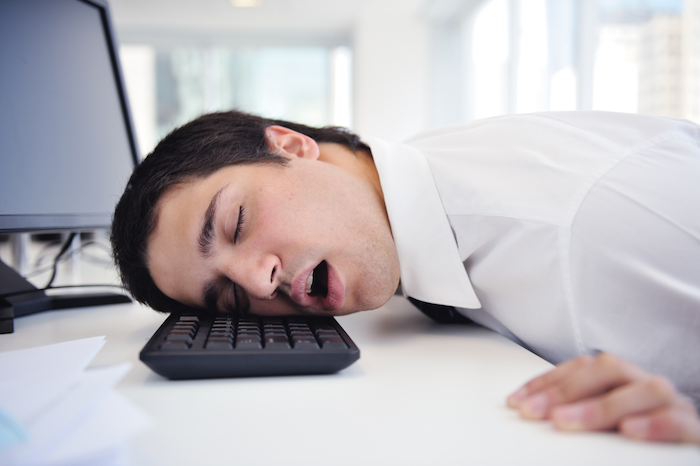 As anyone who has ever had a rough night of sleep knows, the lack of shut-eye can really ruin your entire next day. You can feel sluggish, groggy, and irritable. But as it turns out, that's the least of it!
Each year, drowsy driving accounts for about 100,000 crashes, 50,000 injuries, and 800 fatalities, according to the National Safety Council (NSC). [1]
Not only that, but research shows that a fatigued person is 1.62 times more likely to be involved in an at-work injury due to an increased effort to perform tasks effectively and avoid errors. [2]
To make matters worse, poor sleeping habits are linked to a wide range of diseases. [3]
With all of this, it sounds easy enough – just get some sleep at night!
Unfortunately, that's not the reality for many people.
According to estimates, up to 70 million Americans have chronic, or ongoing, sleep disorders. Which means a good night's rest isn't so easily achieved. [3]
This has led researchers to seek out treatment options for several sleep disorders, preferably ones that have little to no negative side effects. And while the research is still early for many of them, scientists have found some promising results when it comes to cannabinoids.
Below, we cover six sleep disorders and the current cannabinoid research surrounding them. But first, you may be wondering…
What are cannabinoids?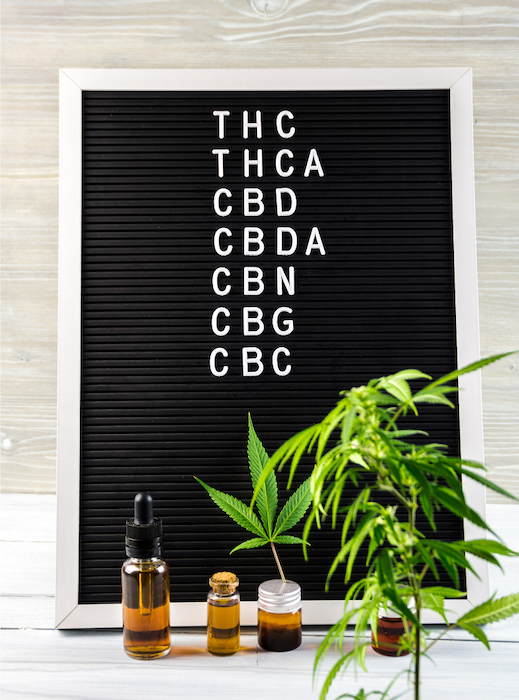 Cannabinoids are naturally occurring compounds found in the Cannabis sativa plant. Of over 480 different compounds present in the plant, only around 66 are termed cannabinoids. The most well known among these compounds is the delta-9-tetrahydrocannabinol (THC), which is the main psychoactive ingredient in cannabis.
However, you may be familiar with another popular cannabinoid – cannabidiol (CBD). And while there are dozens of cannabinoids, THC and CBD are the most closely studied. As such, most of the studies below focus solely on them, while others may include cannabis as a whole, which takes into account all of the cannabis plant compounds.
Cannabinoids are known to interact with the endocannabinoid system (ECS), a network of chemicals and receptors within your body which manage things like appetite, mood, pain, and sleep. As such, they've become a notable subject of sleep and sleep disorder research.
So, keep reading to see how cannabinoids have been making strides in the sleep world!
1. Insomnia
Insomnia is a common problem that can have negative effects on health. There are only a few drugs that can be used to treat it, but they can have harmful side effects. As such, scientists are interested in finding other treatments for insomnia, and they have been studying cannabinoids because they can help reduce anxiety and are known to have some effects on sleep.
So far, the results have far exceeded researchers expectations, giving hope to those who struggle to sleep on a nightly basis.
For example, one CBD study from 2022 gave adults struggling with insomnia a nightly dose of CBD mixed with THC for two weeks. Amazingly, their sleep improved so much that 60% of the participants were no longer classified as clinical insomniacs following the study! On top of that, with all metrics considered, the quality of sleep improved overall by 80% within the group, with the CBD and THC increasing natural melatonin levels, as well as sleep duration and quality. [4]
Some other studies have looked at using cannabinoids to treat insomnia in people with chronic conditions, like fibromyalgia, and have also found some positive effects. One such study in fibromyalgia patients with chronic insomnia demonstrated THC was able to improve restfulness. However, it's unclear if this is due to the effect of THC on sleep quality or better pain control [5, 6].
2. Restless Leg Syndrome
Restless leg syndrome (RLS) is a sleep-related movement disorder accompanied by an unpleasant urge to move the legs, exacerbated by inactivity and relieved by movement, which can negatively affect sleep quality.
RLS is thought to be related to several central neurotransmitters, mainly dopamine. Other associated neurotransmitters include glutamate, gamma-aminobutyric acid (GABA), and endogenous opioid. Because of how cannabinoids interact with these neurotransmitters, there has been increased interest in use of them for RLS. [7, 8, 9, 10]
While research into this area is still new, the results are very promising. For example, two separate studies have found that smoking marijuana – which contains several cannabinoids, including CBD and THC – lead to near total remission of RLS. [11, 12]
As you can imagine, this has sparked a lot of discourse on cannabinoids and RLS, with tests underway to discover which cannabinoids specifically have the most impact.
3. Sleep Apnea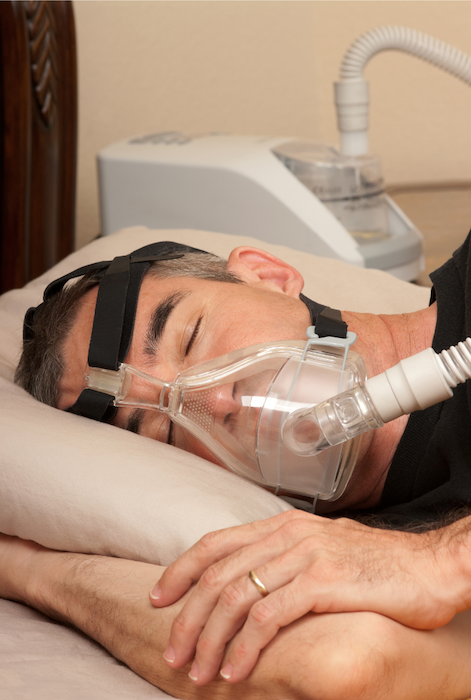 Breathing that stops from any cause is called apnea. When this occurs to people sleeping during the night, this is a condition called sleep apnea.
There are two kinds of sleep apnea. The first is obstructive sleep apnea (OSA) and it's the most prevalent sleep-related breathing disorder in the USA. OSA occurs when the muscles that support the soft tissues in your throat, such as your tongue and soft palate, temporarily relax. When these muscles relax, your airway is narrowed or closed, and breathing is momentarily cut off. [13]
The second kind is called central sleep apnea, which is when ​​your breathing repeatedly stops and starts during sleep because your brain doesn't send proper signals to the muscles that control your breathing. Someone can also have both OSA and CSA simultaneously.
These conditions are primarily treated with positive airway pressure (PAP) therapy, which is when someone sleeps with a mask hooked to a machine to assist breathing. The inconvenience of such has led to researchers seeking other treatment options. Scientists have looked at many different drugs and found little to no success. Recently, there has been increased interest in the use of cannabinoids due to how they affect certain nerves responsible for breathing.
In animal studies, cannabinoids have been shown to reduce apneas. This has been further explored in other studies which have suggested cannabinoid receptors play a role in suppressing apneas. [14, 15, 16]
In human studies, a synthetic form of THC called dronabinol has been shown to decrease incidents of apnea. This shows promise to the millions and millions of people worldwide who struggle to sleep due to this condition. [17]
4. Post-Traumatic Stress Disorder–Related Nightmares
Post-traumatic stress disorder (PTSD) is commonly associated with a range of sleep disturbances including insomnia, nightmares, and periodic limb movements. Untreated sleep disturbances can further exacerbate PTSD symptoms. It seems to be caused by uncontrolled hormones, along with unregulated natural cannabinoids and opioids within the body. [18, 19]
Nightmares can be difficult to treat and only a few medications are typically recommended, with varying results. With their known anti-anxiety abilities, cannabinoids remain of interest and have been under investigation for PTSD. Cannabinoids could have a potential positive role due to their effect on the ECS and other systems throughout the body which can induce calm and relaxation. [20, 21]
Nabilone, another synthetic cannabinoid, has been studied for nightmares in PTSD patients. A study of 104 patients showed improvement in insomnia and nightmares following its use. Another study showed reduction in intensity of nightmares while improving sleep quality and time as well as decreasing flashbacks. A small placebo-controlled trial also demonstrated a reduction in nightmares. [22, 23, 24]
An open-labeled study evaluated the role of THC in chronic PTSD, finding improvement in sleep quality and decreased nightmare frequency. [25]
Research into CBD specifically for treatment of insomnia in patients with PTSD showed decreased sleep disturbances. A second CBD study also demonstrated increased sleep efficiency and total sleep time, as well as less disturbances. [26]
5. REM Behavior Disorder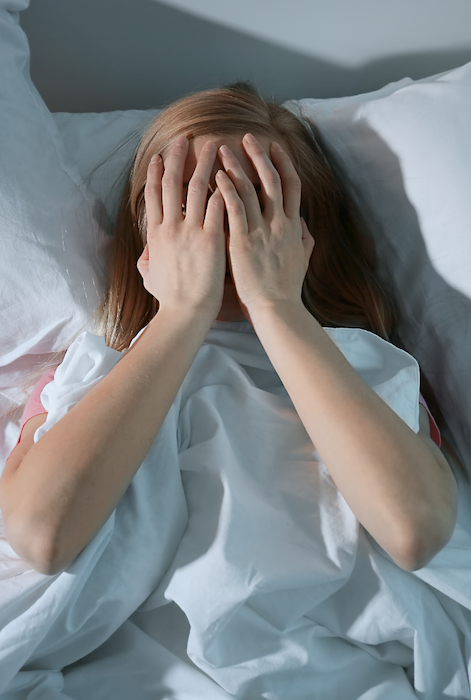 Rapid eye movement sleep behavior disorder (RBD) is a sleep disorder which leads to dream-enactment behaviors. It's often associated with other conditions such as Parkison's disease.
As of current, conventional RBD treatment is limited, so there is a large interest to explore useful options. Thankfully, CBD has been looked at with positive results.
For example, one case study treated four RBD patients with CBD and all four of them saw a substantial reduction in RBD symptoms. [27]
This has encouraged researchers to seek funding for larger studies on how CBD can help those with RBD. We hope to see more of this research in the coming years.
6. Narcolepsy
Narcolepsy is a common cause of excessive daytime sleepiness and is associated with hallucinations and sleep paralysis, among other symptoms. This condition may be due to lack of certain neurotransmitters which play an active role in promoting wakefulness. [28]
When it comes to CBD for narcolepsy, it may seem contradictory. After all, some report improvement in sleep with CBD use, while other research shows how it can increase wakefulness. [29, 30, 31]
While some of this may have to do with the time and amount of a dose, it may also be due to how CBD affects the sleep-wake cycle, as well as how CBD helps you sleep at night which will subsequently make you more awake and energized throughout the day.
Bottom Line
Though research is still in the preliminary stages, it does appear as though cannabinoids like CBD can offer a wide range of benefits to those looking to achieve a restful sleep each night.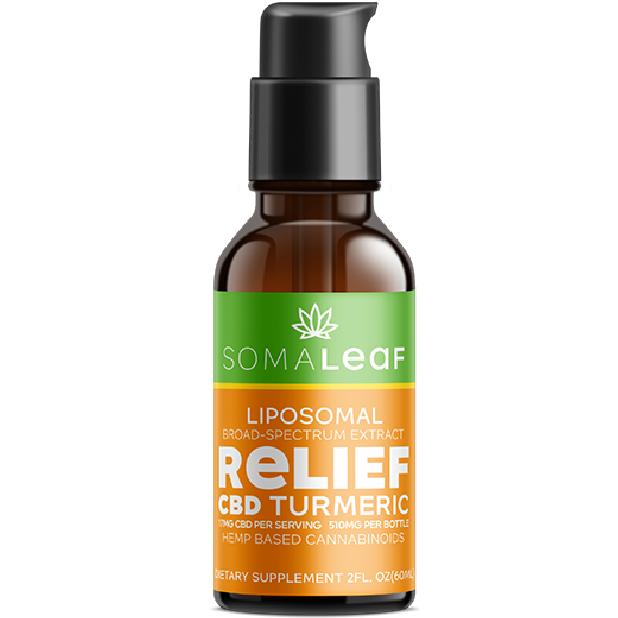 As you read above, CBD regulates key neurotransmitters and brain chemicals for proper brain activity, including falling asleep, staying asleep, and cycling through the proper sleep stages.
The problem is that CBD can't help you if you can't absorb it.
That's why we infused high-quality CBD grown from organic, California hemp with a micelle liposomal formula for full absorption of this beneficial sleep compound.
Click here to learn how else CBD can help with sleep, along with how our micelle liposomal formula works!
References: