Learn why thousands of people rely on this liquid CBD turmeric to fall asleep every night…
Buy One Bottle
Get One FREE
Plus, Free Shipping FOREVER!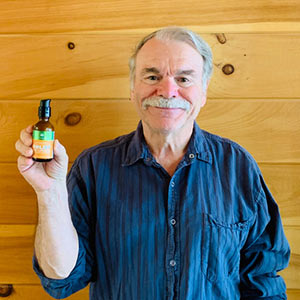 "Your RELIEF CBD Tumeric has been very effective in improving my sleep, beginning with the first night that I used it! I had the best night's sleep in years. Thank you!"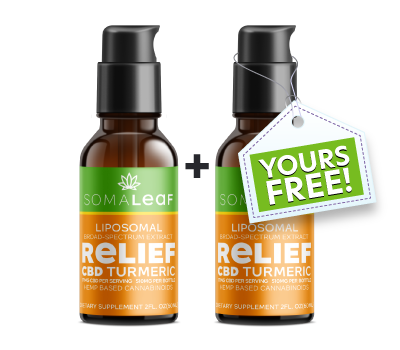 Stop Plugging Your Nose For Bitter CBD Oils That Cause Awful "CBD Burps"
This REVOLUTIONARY liquid CBD turmeric is totally different from those gross oils that don't sit well in your stomach.
Not only does it taste DELICIOUS, but with this new patented formula you can absorb 800% more CBD than standard CBD supplements.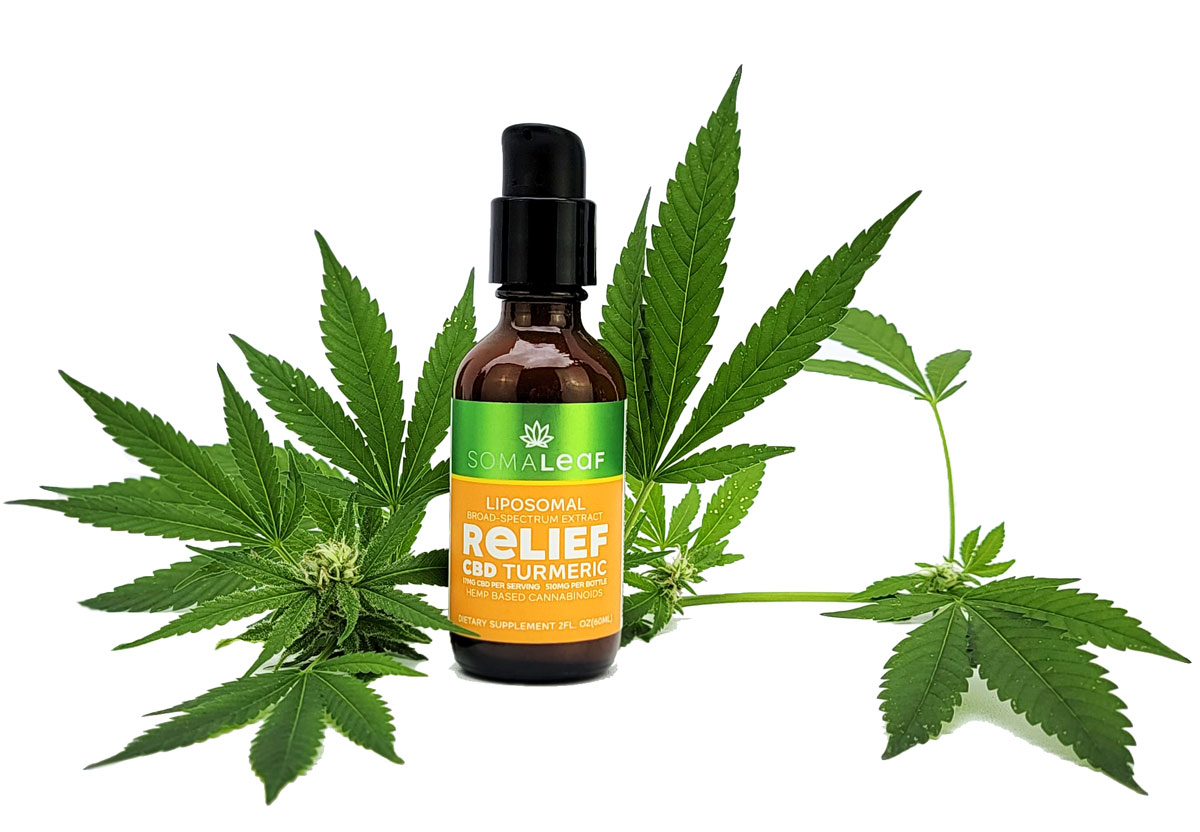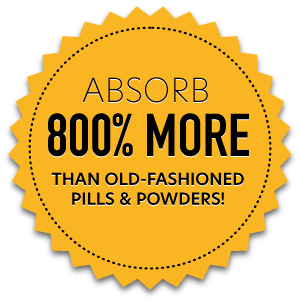 Discover the scientifically proven CBD formula that can FINALLY give you the quality sleep you've been searching for…
In just a matter of 21 days!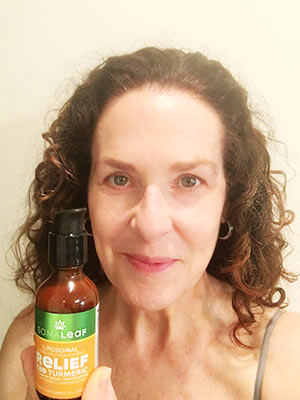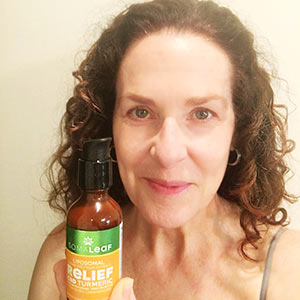 ---
"I've been taking RELIEF CBD Turmeric for
about 3 weeks.

Since using this I have not only seen a decrease in my stress level but I have also been sleeping better. Maybe because I'm more relaxed. Nevertheless, taking RELIEF CBD Turmeric has become a nightly routine. I would highly recommend this supplemental product. Relief with no side effects!"
---
After just three weeks of consistently using liquid CBD turmeric, Nancy couldn't believe her results! Not only was she able to get her stress levels down, but now she can actually enjoy quality sleep every single night. And she gets to do it naturally!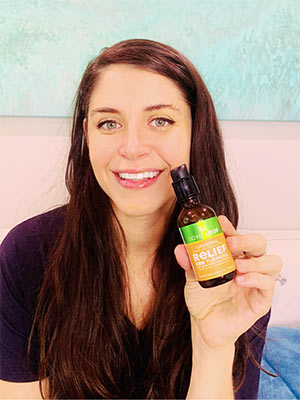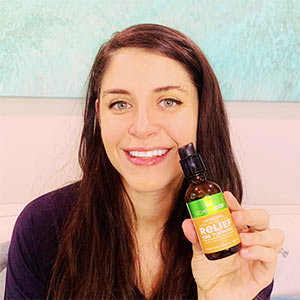 ---
"I've been using SomaLeaf's RELIEF CBD Turmeric for
3 weeks now

in my herbal tea before bed. I've been sleeping soundly and I feel calm throughout the day. All anxiety is gone, just feel peaceful and able to relax more."
---
Before, Sara was feeling stressed and anxious every day. But now, just by adding liquid CBD turmeric to her tea each night, she can relax and finally sleep soundly!
Hear what real customers have to say:
"I've been taking SomaLeaf for a couple of years now and I must say it is hands down the best CBD product I've ever had! I started taking it because I had really bad sciatic nerve pain and I tried every CBD product you can think of… Oils, gummies, teas, gels, everything! Nothing comes close to SomaLeaf for pain relief and it also helps me sleep really good at night… I can't live without it."
"SomaLeaf CBD did the job for me… I am a guitar enthusiast and had trouble with tendonitis in my elbow from practicing and playing too much. But since I have taken the SomaLeaf CBD regularly, over time it's gotten much, much better! So I can play the blues and feel no pain!"
"I get a good night's sleep every night! I used to wake up in the middle of the night for a few hours around 3am. And now I sleep right through! And can wake up early in the morning and… Get my morning run in!"
Here's Why RELIEF CBD Turmeric is Superior
If you've ever bought CBD from a health food store or most places online, chances are you have a useless supplement sitting in your medicine cabinet.
See, most CBD supplements have two issues:
ISSUE #1
They are "naked" — meaning they're unprotected from the boiling acid of your stomach, which destroys most CBD compounds before they can be absorbed.
ISSUE #2
They are made of giant nutrients — meaning they are encapsulated in such a form that is too big to squeeze past your small intestine wall, hindering absorption.
RELIEF CBD Turmeric is completely different
It's "packaged" with much smaller nutrients, so your body soaks in up to 800% more!
FIRST: The CBD is encased in micelles. Think of micelles as a protective barrier that wraps around the CBD compounds to protect them from stomach acid during digestion.
SECOND: The micellized CBD is further wrapped in liposomes. Liposomes form the same type of fat (phospholipids) as cell membranes. This makes the nutrients recognizable by the body and welcome for absorption.
THIRD: The CBD compounds (within the micelles and liposomes) safely travel through the harsh digestive tract and arrive in your gut fully intact. The nutrients are then absorbed through the intestinal wall and are deposited directly into the bloodstream.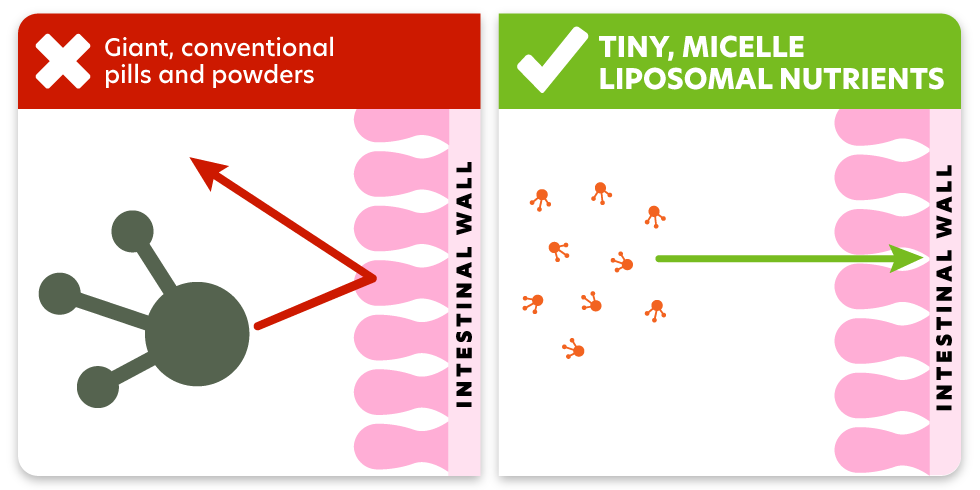 FINALLY: Your body gets a powerful dose of CBD along with the countless health benefits that come with it like supported joints, reduced inflammation, increased brain function, and much more!
Here's why people rave about
RELIEF CBD Turmeric
NO BITTER AFTERTASTE OR "CBD BURPS"
In fact, the members of our SomaLeaf community LOVE our RELIEF CBD Turmeric so much because…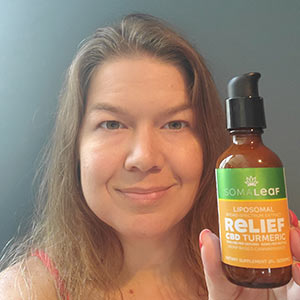 "RELIEF CBD Turmeric is so much easier to take than the turmeric capsules that I have purchased in the past. I especially like that I get two ingredients in one product. Plus, it tastes delicious! I definitely notice an improvement when I take this daily."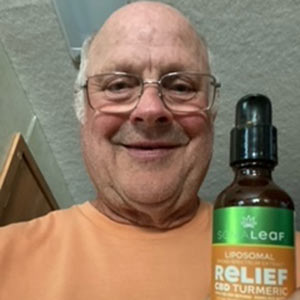 "I've been using your RELIEF CBD Turmeric product for the last year to relieve lower back and knee pain as well as inflammation. In addition, I use it in the evening to help me sleep better. Great product that tastes great too. Thanks so much!"
Not only does RELIEF CBD Turmeric taste amazing, but it's:
…And contains

NO artificial flavorings or preservatives.
With your daily dose you can…
Finally get that long, quality sleep you lay in bed praying for every night
Reduce stress levels so that you can tackle each day at your best
Decrease or even eliminate symptoms of anxiety and depression
Provide natural relief to joint and muscle pain
Enhance your memory thanks to the brain-boosting effects of the organic turmeric root
Support the health of your heart and cardiovascular system
See your skin develop the youthful glow that so many users of turmeric report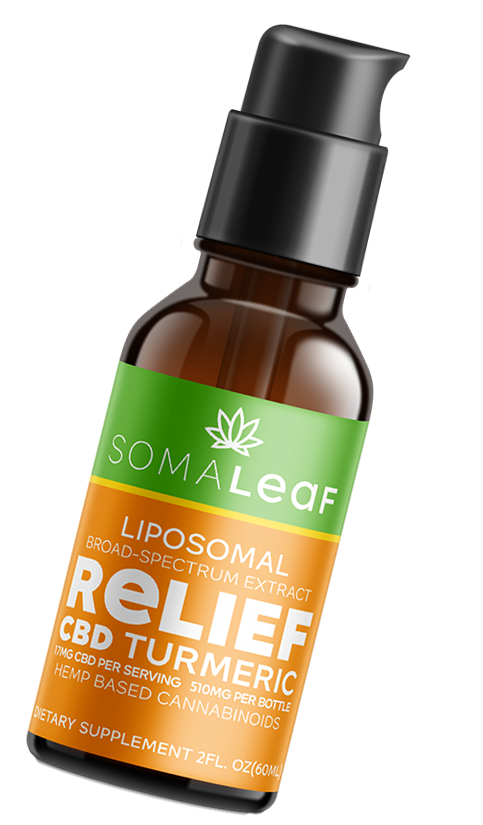 How Your
Buy One Bottle, Get One FREE

Offer Works:
Plus, Free Shipping FOREVER!
Buy One Bottle Get One FREE
Buy one bottle of RELIEF CBD Turmeric and receive an additional bottle for FREE! It's that simple.
Receive FREE SHIPPING for LIFE
If you're located in the United States or Canada, you will receive FREE SHIPPING forever through this special offer. No hidden fees.
Become an Exclusive SomaLife Member
With your purchase, you automatically become a SomaLife member! With your SomaLife membership, RELIEF CBD Turmeric will be delivered straight to your door every single month. You can cancel or adjust your shipment frequency at any time.
Plus, you get added perks like:
20% OFF coupons on your 1-year anniversary
FREE ebooks every season
Early-bird access to our sales and new products before anyone else
Surprise freebies
A dedicated customer care team, ready to serve you!
Here's What's Inside

RELIEF CBD Turmeric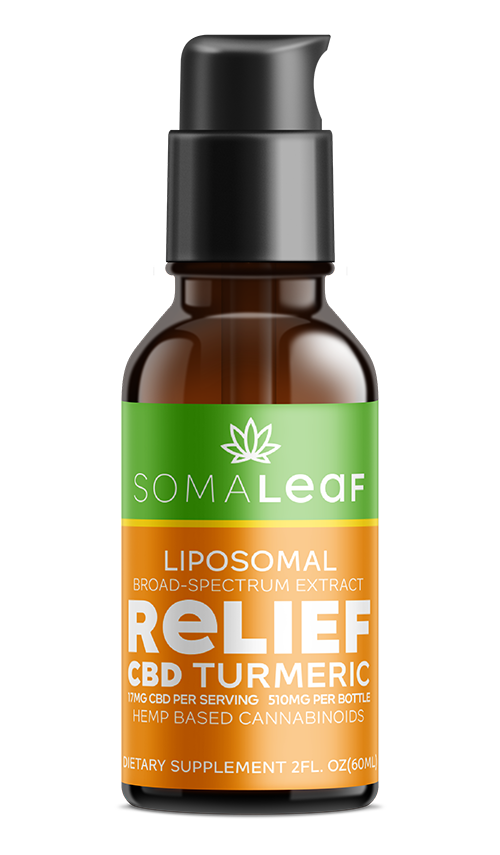 CBD
Derived from organic hemp grown beneath the California sun, RELIEF CBD Turmeric's main ingredient is micelle liposomal CBD. Studies show that CBD can help people both fall and stay asleep, alleviate pain and discomfort, reduce symptoms of anxiety and depression, and more. CBD interacts with your body's endocannabinoid system, which regulates mood, appetite, pain sensation, muscle tone, immune function, and other physiological roles. CBD is notoriously difficult for the body to absorb, but with our micelle liposomal formula, you can now get max absorption for increased benefits.
Organic Turmeric
Used medicinally for thousands of years, turmeric's reputation throughout history has only been upheld (and even increased) thanks to modern science. Thousands of studies show how turmeric is a powerful anti-inflammatory and antioxidant that can support joint health, increase energy levels, boost cognition, promote heart health, and stave off disease. In RELIEF CBD Turmeric, you can now get turmeric in a highly absorbable micelle liposomal form for enhanced results.
Vitamin E
An essential nutrient, vitamin E offers additional antioxidant support. Vitamin E also helps maintain healthy skin and eyes, while strengthening the body's natural defense against illness and infection.
Orange Oil
For natural flavoring, you get a healthy dose of organic orange oil every time you take RELIEF CBD Turmeric. Orange has uplifting properties (like all citrus) but is also a calming and balancing oil. By providing a positive relief of tensions in the mind and body, sweet orange is very effective in assisting with insomnia and can improve sleep quality.
Love Your RELIEF CBD Turmeric or Get Your Money Back!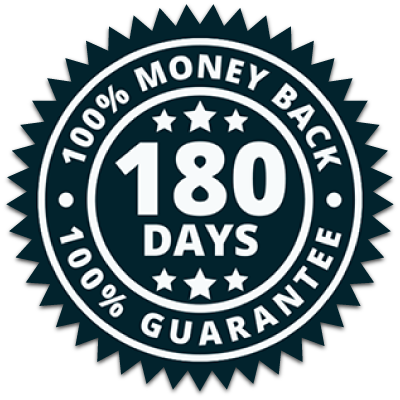 When you receive your order of RELIEF CBD Turmeric, you are completely covered under our 180-day satisfaction guarantee (that's an entire 6 months)! We want you to be 100% satisfied with your results.
Order RELIEF CBD Turmeric
And get a FREE Bottle and Free Shipping FOR LIFE!

RELIEF CBD Turmeric
142 Reviews
Enjoy the warm, delicious taste of CBD turmeric infused with orange as you sleep soundly every single night… all while getting free shipping for LIFE!
One Bottle of Relief CBD Turmeric ($54.00)
One Bottle of Relief CBD Turmeric (FREE!)
FREE Shipping For LIFE!
HAVE QUESTIONS?
LOOK HERE.
RELIEF CBD Turmeric utilizes organic glycerin as its all-natural sweetening agent, which is derived from orangutan-friendly coconuts. Glycerin provides a delicious sweet taste without spiking your blood sugar or packing on extra calories.
RELIEF CBD Turmeric is formulated with a micellized CBD, which is scientifically proven to be 800% more efficient. This ensures that your body absorbs a superior amount of CBD, which allows you to see AND feel a difference. Also, it's not just CBD. RELIEF CBD Turmeric is blended with additional ingredients that help support your joints, regulate inflammation, and make you feel healthy from the inside out.

RELIEF CBD Turmeric
Nutrition Facts
Supplement Facts
Serving Size: 2ml (8 Pumps)
30 Servings Per Bottle
Calories: 5
Calories From Fat: 3
Hemp Extract Constituents (CBD): **
17mg
Orange Oils Containing Terpenes: ¥
5mg
Phosphatidylcholine Liposomal Complex Containing Turmeric Root Powder:
300mg
INGREDIENTS:
Organic Glycerin, Non-GMO Sunflower Oil containing Phosphatidylcholine (A Phospholipid used to produce Liposomes), Hemp Extract Phytocannibinoids Complex, Vitamin E (as Alpha Tocopherol, an antioxidant to protect flavor and color), Full Spectrum Turmeric Root containing Curcuminoids, Orange Oil (Natural, Organic Essential Oils containing Terpenes for flavor) and less than 1% of Gum Acacia and Citric Acid (Ph Adjuster to assure freshness).
DOES NOT CONTAIN: GMO, MSG, gluten, dairy, wheat, soy, yeast, lactose or milk. Gently Shake Before Using.
CAUTION:
Do not exceed recommended dose. Pregnant or nursing mothers, children under the age of 18 and individuals with a known medical condition should consult a physician before using this or any dietary supplement.
KEEP OUT OF THE REACH OF CHILDREN. STORE IN A COOL DRY PLACE.
---
All of our bodies are different, so the timing may vary from one person to the next, but you should see results anywhere from within a day, up to a few weeks.
First, you may notice that you feel more calm throughout the day. Not in the way of a "high" or daze, but stress isn't your first response to a task or situation. As such, you'll find it easier to clear your mind when needed. Then you'll find this carries into night time, allowing you to fall and stay asleep much easier.
You may also find that your joints can move more freely and any usual aches that may form in your muscles or joints following movement are suddenly greatly reduced or even gone.
After a month of use, you may find that you wake up feeling refreshed instead of groggy or sore and that your memory is beginning to improve. Some users also report weight loss and a sudden glow to their skin.
Take eight pumps from the pump top once daily. We recommend taking it on an empty stomach, about twenty minutes before a meal. However, you can also add it to your favorite recipes, pour it into smoothies, a glass of water, or even drizzle it over ice cream!
Eight pumps contain 17mg of CBD and 50mg of organic turmeric curcumin extract.
With 30 servings, one bottle lasts a month.
You have a full 180 days to try RELIEF CBD Turmeric. If you don't LOVE your results, you can receive a full refund. No questions asked.